Library
The two buildings of NBU are connected by the Library compound, which consists of a ground floor and two floors above it. The ground floor is given over to the Cloakroom, the Loan Desk, Technology Center, The Blue Chair Hall. It also provides an exhibition area, a reader space for people with visual impairments, a seminar room, staff area for storing books and periodicals. Lockers for personal belongings and the Loan Desk are located close to the Library Entrance facing the second floor lobby. There you will find the book collections and reference books, the Reference Enquiry Desk and Professor Ivanka Apostolova, D.Sc. Reading Room. A collection of books in the field of art is arranged on the second floor.
Wireless Internet access is available on all floors of the Library.
Seminar room

It is located on the ground floor of the Library. It has 50 seats in conference–style arrangement and is equipped with audiovisual facilities. It is suitable for seminars, conferences and discussions.


The Blue Chair Hall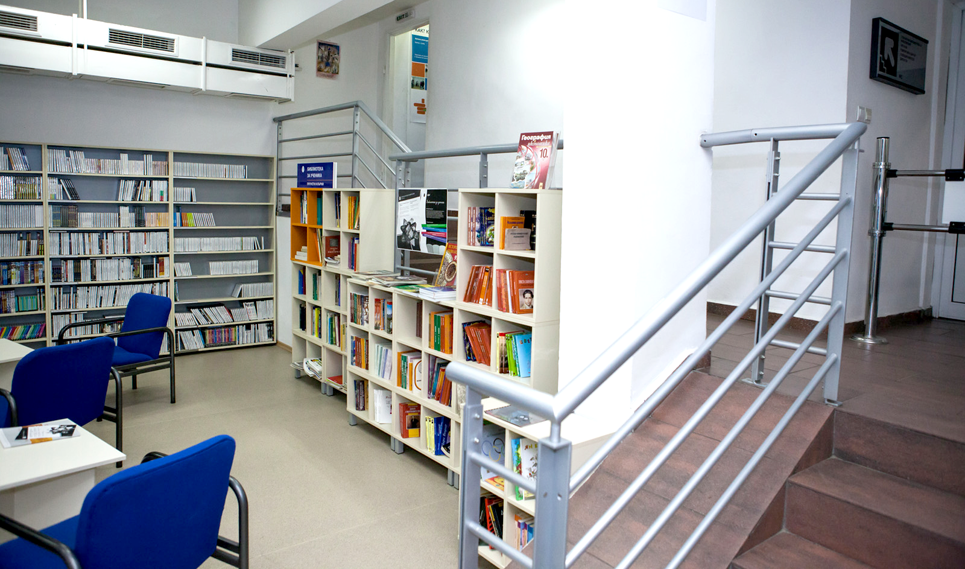 It is located on the ground floor of the Library between the Technology Center and the Loan Desk. This informal space has 20 seating modules and is suitable for meetings, celebrations, book presentations, etc.


Professor Ivanka Apostolova, D.Sc. Reading Room

It is named after Prof. Ivanka Apostolova, D.Sc., who was Rector of NBU in the period 1995-2002, and in 2001 was awarded an Honorary Doctorate.

It has 122 reader spaces, 8 specialized PC available for access to electronic resources, a Copy Center and the Group Study room with 20 seats. It offers reference books and periodicals, some personal collections donated to NBU and the Doctor Honoris Causa special collection.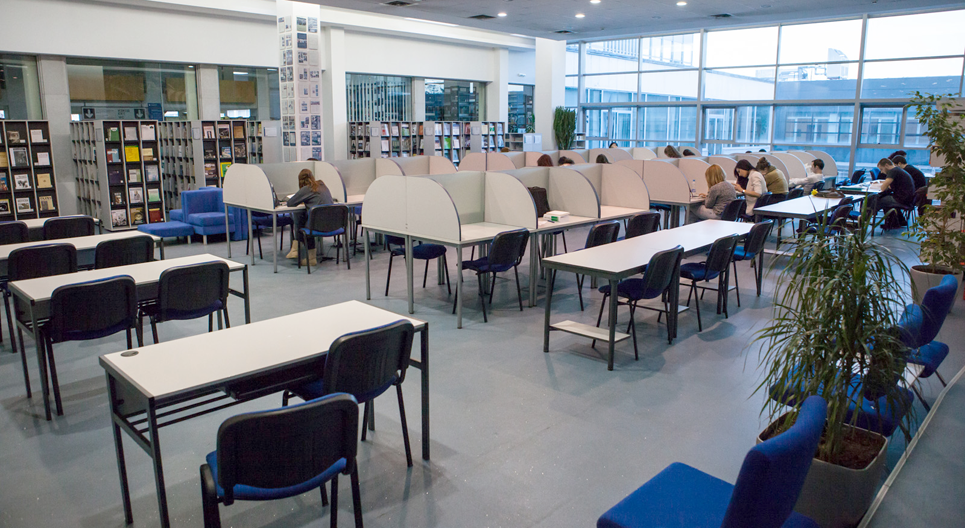 The Library owns personal collections - donations from some distinguished Bulgarian and foreign scientists: Prof. Alexander Fol, Prof. Dr. Armin Hohlweg, Atanas Slavov, Prof. Boian Nichev, Academician Vera Mutafchieva, Prof. Georgi Mihailov, Academician Ivan Duridanov, Prof. Ivanka Apostolova, D.Sc., Prof. Magdalina Stancheva, Prof. Peter Black, Prof. Richard Schneider and Prof. Tseko Torbov.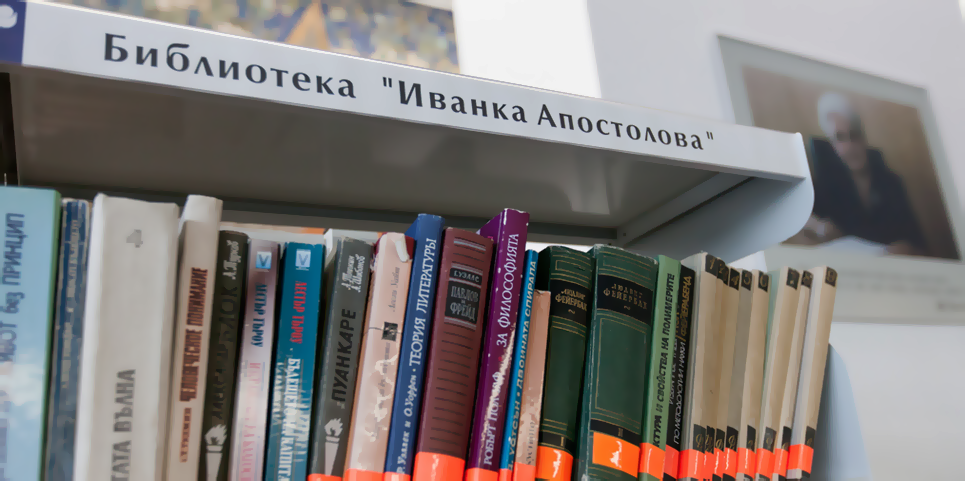 The Doctor Honoris Causa collection comprises books by authors who were awarded the Doctor Honoris Causa of New Bulgarian University Degree.
On one of the columns in the Reading Room there is a permanent exhibition of pages from the commemorative album of New Bulgarian University, issued on the occasion of the 15th anniversary of its founding.
Groups study room
It is located in Professor Ivanka Apostolova, D.Sc. Reading Room. It has 20 seats arranged in a circle and is available for students and teachers who need to work together on projects and use all the Library's resources. It is equipped with a big computer display for watching films and 80 TV channels, which can be connected to a portable computer. If necessary a Multimedia Projector and a screen can be used.